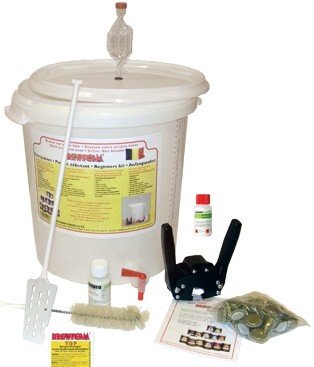 TO HELP YOU ON YOUR WAY, HERE ARE SOME TOP HOME BREWING TIPS FROM OUR TEAМ OF BREWERS.
1. MASH TUN
Vessel in which wort is produced by combining water and grain,
and holding at set temperature(s) for a period of time.
2. LAUTER TUN
Vessel used to separate the grain from sweet wort produced
during the mash and where the grain can be sparged. Usually
the same vessel as the mash tun.
3. HEAT SOURCE
Either gas or electric; equipment generally designed for one
or the other.
4. SANITISER
Because if you aren't clean, you're screwed.
5. HYDROMETER
So you can pat yourself on the back for hitting OG, or berate
yourself for being an idiot when you are 12 points under target.
6. SCALES
How else will you be able to accurately weigh out materials?
Guesstimates don't work.
7. THERMOMETER
Something more sensitive than your elbow is required for critical
temperature checks.
For all the stirring. Plastic or metal will do.
9. MEASURING JUG
Knowing the exact volume of water amongst other things
is hugely helpful.
To stop your fermenter going boom whilst not letting in
any critters from the outside.
A vessel to allow yeast to do its magic and convert that
sugar into alcohol.
12. BREW KETTLE
Vessel in which sweet wort is boiled with hops.
13. HOT LIQUOR TANK
Vessel used to heat water for mashing and sparging.
14. WORT CHILLER
bathtub full of ice, it's important to get your wort cool
quick after boiling.
You may know someone who has converted his or her entire basement or garage into what practically looks like a professional brewery, full of shiny tanks and kegs, welded
pipework
, washing stations, and fridges with
tap handles
always pouring out beautiful foamy beer. But rest assured there is no need to invest a fortune to get started making your own beer. The easiest way to go is to just buy a basic homebrewing kit. You can always add fancier brewing gadgets after you've brewed for a while and decided it's something you love (which you will, of course).