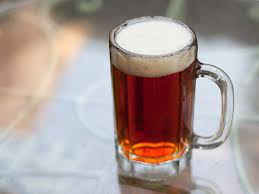 Expected Brew Figures
OG: 1051
FG: 1009
IBU: 19
ABV: 5.2%
Volume: 21 litres
Ingredients
1.5kg German Pilsner Malt
1.5kg Rye Malt
660g Dark Munich Malt
660g Light Munich Malt
330g Chocolate Rye Malt
120g CaraMunich Malt
120g Rice Hulls
½ tsp Gypsum (during the mash)
26gm Tettnanger (4.5%AA) 60 minutes
13 gm HallertauerMittelfruh (4.0%AA) 15 minutes
Wyeast 3638 Bavarian Wheat
Method
1. Strike the grains at 50C(122F) for 20 minutes.
2. Raise to 65C(149F) for 20 minutes and then 75.5C(167.9F) for 10 minutes.
3. Bring wort to the boil and add the Tettnanger for 60mins.
4. Add the Hallertauer with 15 minutes remaining.
5. Pitch yeast and ferment at 17-18C(62.6-64.4F) for 10-14 days or until fermentation subsides.
6. Condition the beer for 14 days before bottling.