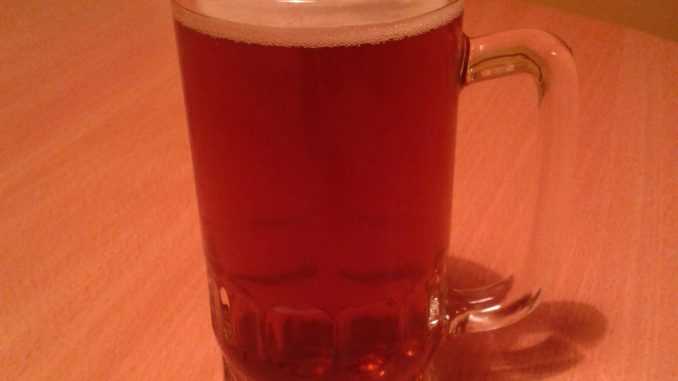 ABV   IBU   OG
6%    60    1056
 BASICS
VOLUME              20L 5gal
BOIL VOLUME    25L 6.6gal
ABV                      6%
TARGET FG         1010
TARGET OG        1056
EBC                       17
SRM                      8.5
PH                         4.4
ATTENUATION LEVEL       82.14%
METHOD / TIMINGS
MASH TEMP
65°C 150°F           75min
19°C 66°F
INGREDIENTS
MALT
Extra Pale 5.3kg 11.7lb
HOPS
(g)       Add        Attribute
Ahtanum               17.5      Start         Bitter
Chinook                  15         Start        Bitter
Crystal                    17.5     Middle    Flavour
Chinook                 17.5     Middle     Flavour
Ahtanum               17.5        End       Flavour
Chinook                 27.5       End        Flavour
Crystal                    17.5       End        Flavour
Motueka                 17.5       End        Flavour
YEAST: Wyeast 1056 – American Ale™
FOOD PAIRING
Spicy carne asada with a pico de gallo sauce.
Shredded chicken tacos with a mango chilli lime salsa.
Cheesecake with a passion fruit swirl sauce.
BREWER'S TIP
While it may surprise you, this version of Punk IPA isn't dry hopped but still packs a punch! To make the best of the aroma hops make sure they are fully submerged and add them just before knock out for an intense hop hit.